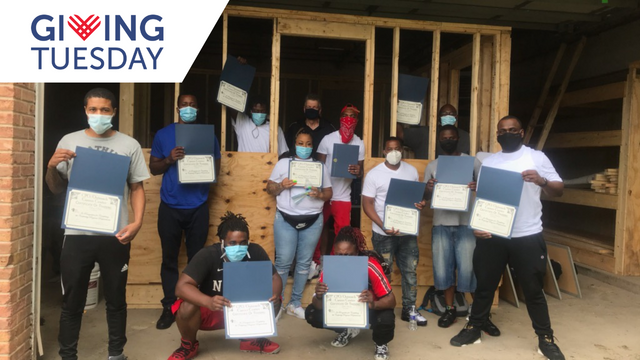 Our Giving Tuesday goal is to raise funds to send 20 formerly incarcerate individuals through our life changing welding and carpentry programs.
"I'd been robbing, shooting and stealing just for money and I always landed in the same place. But now God has given me way more than I could desire," shares De'Andreas McCanton a graduate of Chicagoland Prison Outreach's carpentry training who is a master carpenter and owns DM Investments Corporation.
De' Andreas story is not unique, it's what Chicagoland Prison Outreach strives to accomplish in the lives of the formerly incarcerated. We provide carpentry and welding training at our vocational training center in Roseland. Our mission is to give our students hope and tools for life change through case management, job placement assistance, biblical mentoring, and life skills classes all with a Christian perspective.
Over 100 students participate in our trainings annually, with 83% having successful job placement and we want to increase that number. We know that students who complete our training programs experience real change, like Charles W. who shared, "I am really thankful for the experience. I came to the program the third day after being released from jail. Taking the program seriously and meeting other people helped me to make better decisions and get a better outcome. I am grateful and blessed to have found this program."
Gaining a marketable skill not only increases their earning potential, but it changes the way they make life decisions and reduces their chances of becoming repeat offenders.
It cost Chicagoland Prison Outreach $3,200 to send a student through our 16-week courses.  We want to provide the opportunity for more students to have life changing experiences like DeAndreas and Charles did, which is why our Giving Tuesday goal is to raise enough funds to send 20 formerly incarcerated individuals through our welding and carpentry programs. You can help with a one time gift of any amount and if you feel so lead to bless us on a larger scale,  a commitment of $250 per month for 12 months will cover the cost for one of our students.